Charles Feng from East & Concord Being Invited to Attend the Seminar on "Revisions of the Copyright Law and the Patent Law as well as Enterprises' Countermeasures" and to Deliver a Speech
On June 24, 2021, the seminar on "Revisions of the Copyright Law and the Patent Law as well as Enterprises' Countermeasures" was held in Beijing. At the invitation of DIHK and the Enterprise Service Center of the European Chamber of Commerce in China, Partner Charles Feng from East & Concord Partners delivered a speech on the topic of "The Third Revision of the Copyright Law of the PRC".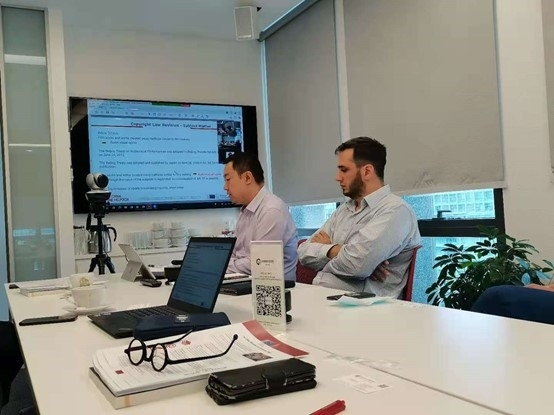 In the speech, Charles first introduced the revision of the Copyright Law and the outline of the copyright-related system. Then, he introduced the key contents of the revision with specific cases, including the open setting of the object of the Copyright Law, granting judicial authorities the discretion to determine the types of new works, separate regulations of the interactive and non-interactive communication of the information network communication right and the broadcasting right, explanations to the special protection of technical measures and the rights management information added to the revised Copyright Law. In addition, with regard to the principle of fair use of copyright, the revised Copyright Law sets out 12 applicable circumstances, and stipulates that a work can be used under such circumstances without the permission of or making payment to the copyright owner, but the name of the author and the name of the work shall be specified, and other rights enjoyed by the copyright owner shall not be infringed. As for the legal compensation for copyright infringement, the maximum amount of compensation is raised from RMB 500,000 yuan to RMB 5 million yuan, and the lower legal compensation limit shall be set at RMB 500 yuan. At the end, Charles made a brief explanation to the possible impact of the revision of the Copyright Law on enterprises and offered valuable suggestions on their countermeasures.
The seminar was featured with distinctive themes and prominent points. Attendees combined law with practice and made a professional analysis and in-depth discussion on the revision of the law. After the speech, Christian Sommer, the chief executive and chairman of DIHK, thanked Charles for his speech. Charles has won the unanimous recognition and high appreciation of the attendees for his solid theoretical background and detailed explanation. Attendees have expressed that they gained much therefrom.