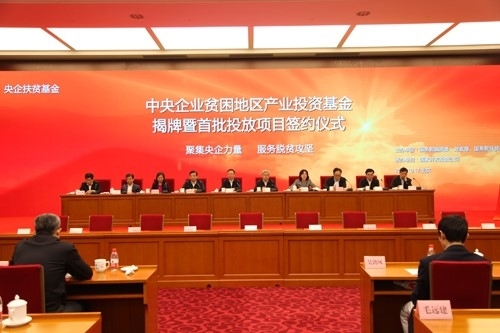 On October 17, on the third National Poverty-alleviation Day, the Central SOEs Industrial Investment Fund for Poor Area inauguration ceremony, the signing ceremony of the first projects to be invested was held in Beijing. Fifty-one central enterprises, including State Development & Investment Corporation, State Grid Corporation of China, China Huadian Corporation Limited and China Three Gorges Corporation, made the initial contribution. The fund raised from the initial contribution reached 12,203 million yuan, and plans to gradually reach RMB 100 billion.
Central SOEs Industrial Investment Fund for Poor Area was formed with investment from central SOEs under the leadership of State-owned Assets Supervision and Administration Commission of the State Council, the Ministry of Finance and the State Council Leading Group Office of Poverty Alleviation and Development. By closely following the state poverty alleviation strategy, the Fund aims to cluster the advantages of central SOEs and attract extensive social capital to actively explore ways of poverty alleviation through industrialization and marketization, support industrial development in poor areas through flexible ways of investment, enhance the "hematopoietic function" and stimulate the internal impetus of poor areas to lead the poor masses to realize accurate poverty alleviation and to find new ways and erect brands for central SOEs to support agriculture with industry.
The Fund is mainly invested in the development and use of resources, industrial park construction and new-type urbanization in needy areas, and it gives priority to supporting projects which absorb more employees, driving economic development, alleviating poverty, and to supporting provinces and regions with a larger indigent population, military base areas, areas inhabited by ethnic minority groups and border areas.
As the legal counsel of Central SOEs Industrial Investment Fund in Poor Area, East & Concord Partners provides all-round legal services. This project is led by Xiaodong Hu and Meiying Zhang, partners of East & Concord, with Yuan Gao's and Xianxi Li's assistance.