Yinghui Feng Awarded as One of the "ALB China 2017 Top 15 IP Lawyers"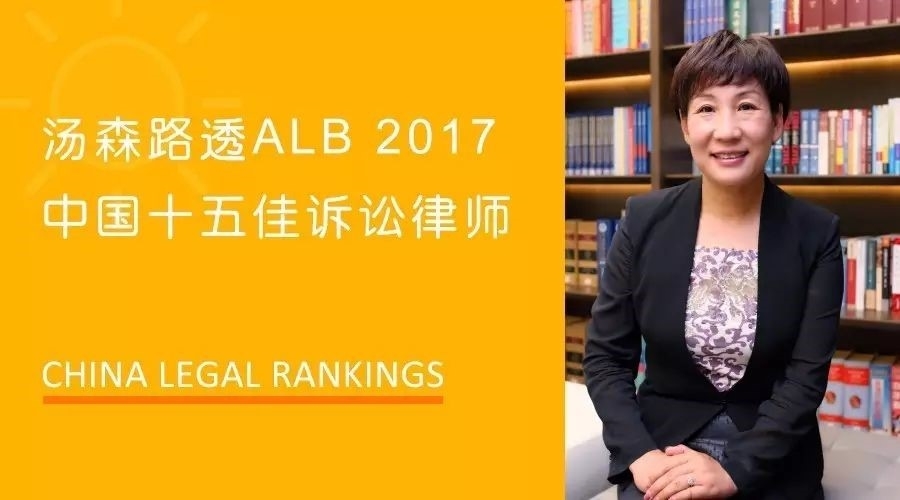 Yinghui Ying, partner of East & Concord Partners, was selected "ALB China 2015 Top 15 IP Lawyers" by Thomson Reuters Asian Legal Business for her expertise and wealth of experience in dispute resolution. The selection takes into consideration the level of difficulty of typical cases represented by candidate lawyers, lawyers' litigation strategies, case impact, innovativeness, etc., before finally deciding on the top 15 IP lawyers.
Since began practicing law 26 years ago, Yinghui Feng has been active in the front-line of litigation and arbitration. In the past year, she represented her clients in several major cases. In addition to her practice, Yinghui Feng shares with young people her experience in litigation and the lessons she has learned over the years. She lectured in lawyer induction training sponsored by Hebei Lawyers Association and taught in the legal clinic of Minzu University of China.
A litigator's duty and significance is to pinpoint and effectively resolve problems. Facts plus the law lead to this conclusion. Litigators shall discover problems from complicated facts and extract a logical and rigid outline, retrieve corresponding articles from a great number of laws and regulations, make comprehensive analyses in light of the backgrounds of the cases and industrial characteristics before designing the best favorable plans for the clients. For a case to have a good result, an innovative plan is the key, not simple appeal or mechanical counter plea.
In the judicial process, a litigator will realize the problems in the commercial activities involved in the case if there are loopholes or places to be improved in the law in related field. The litigator is also the one to give feedbacks on the client's revised trading structure and its needs in a timely manner, and advise on revising and improving the law to the legislature.
We hereby congratulate Yinghui Feng on winning such honor. Our Dispute Resolution team will continue upholding the principle of being client-oriented to provide high-quality legal services for our clients.