On December 7, 2017, 2017 LEGALBAND China 30 under 30 was officially announced. Ming Zhong, partner of East & Concord Partners, and Associate Jing Zhu of East & Concord, with their excellent service, well-respected reputation and client recognition, were on the list. That they were selected to the list of "LEGALBAND China 30 Under 30" fully demonstrates the recognition and confirmation of these two extraordinary attorneys and East & Concord by industry peers.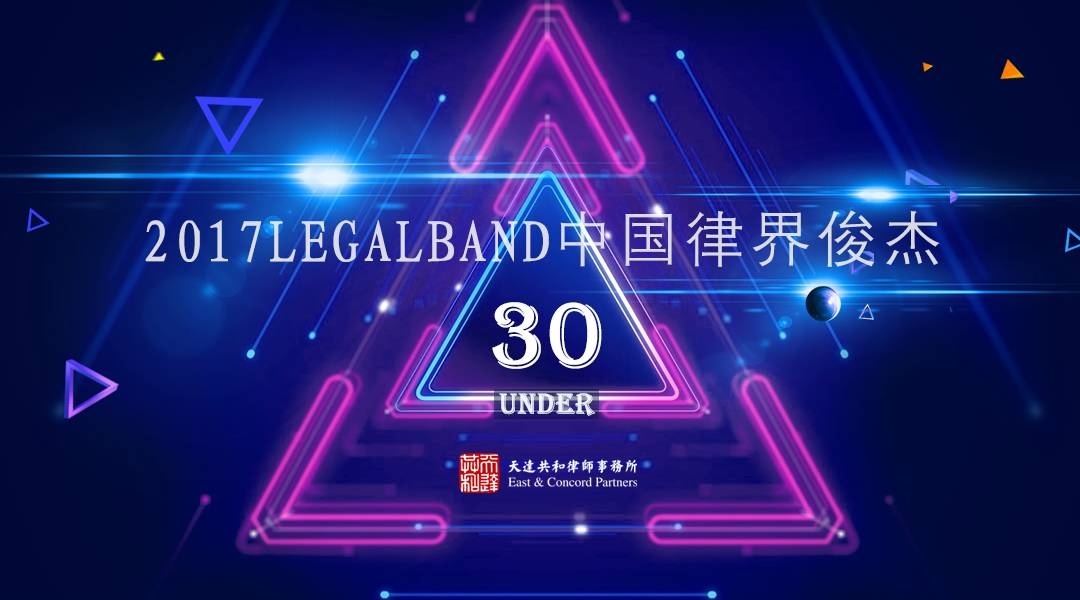 Ming Zhong
Partner of East & Concord Shenzhen Office
Practice Area: mergers and acquisitions, investment and financing
Working years: 8
Reasons for Ming Zhong to be selected to the above list: Zhong Ming, one of the youngest partners of East & Concord Partners Shenzhen Office, has exceptional professional proficiency and comprehends M&As and investment and financing very well. As the main lawyer, she once represented Dong Yin Development (Holdings) Ltd. to handle the cross-border investment matters and participated in the open offering of 2016 corporate bonds (on a scale of RMB 2bn) by Beijing Enterprises Group Company Limited. Zhong Ming, with the ability to accurately control the professional direction and appropriately seize clients' demands, has set a good example for her colleagues;" "with professional and solid legal knowledge, a working attitude with a great sense of responsibility and diligence, quick response, skillful communication and a highly efficient and practical teamwork spirit, she beneficially helps the group in the resolution of complicated legal affairs." Ms. Zhong graduated from Huazhong University of Science and Technology and Wuhan University as a graduate, and Peking University as a postgraduate.
Motto: "To be surefooted, to look up at the starlit sky, and to well play each role in life."
Zhu Jing
Associate of East & Concord Partners Shanghai Office
Practice areas: banking and finance, real estate and construction, dispute resolution, entertainment and sports
Working years: 5
Reasons for Zhu Jing to be selected to the list: Zhu Jing has a lot of clients in such practice areas as banking and finance, real estate and construction, dispute resolution, entertainment and sports, and once participated in settling a number of large-scale and highly difficult legal affairs, and performed extremely well in the projects. Representative transactions in which he participated include: non-performance asset acquisition of China Construction Bank and Fubon Bank; China National Offshore Oil Corporation's acquisition of gas stations in Guangzhou and Jiangsu; provision of legal services on investment, issuance and copyright acquisition of programs such as movies, entertainment programs, TV series and concert for Yaolai Entertainment Media Co., Ltd. She is trusted by her clients: "She is considerate. She provides us with correct and professional opinions, and always completes our cooperation successfully." Zhu Jing graduated from East China University of Political Science and Law.
Motto: "In people's eyes, a genius is a genius not because he is more gifted than the others, but because he makes constant efforts. Being tempered for 10,000 hours is a necessary precondition for the ordinary to become the extraordinary."
During its investigation and survey that lasted a month, the LEGALBAND survey team, after referring to all details of recommendations of law firms, lawyers' self-recommendations and client feedback and also based on the long-term observation and keen understanding of the Chinese legal market of its resident survey team inChinaregion, finally selected LEGALBAND China 30 Under 30. Core selection factors include clients' and colleagues' comments, major transactions or cases the lawyers have participated in, and the lawyers' work experience.